Ginkgo Florale, a reworking of the iconic design, available as a numbered, limited edition, is the result of a collaboration between the Heschung ateliers and Strasbourg-based illustrator Missy. The artist gave an interview for the occasion and told us about her universe and the creative process behind the collaboration…
Can you tell us more about your journey and how you became an illustrator and graphic designer?
I studied applied arts and then visual communication. Very quickly I found my niche as a graphic designer and started working freelance. Illustration is a passion that has consumed me for several years and I do it alongside my graphic design work.
How did your passion for design come about?
I've always been attracted to beautiful images, street art, fantasy and magic realism… My mother is a painter and from a very young age I was fascinated by her studio which is crammed with tubes of paint and full of the smell of acrylic. That's what made me want to be a designer and tell my own stories.
What inspires you?
My sources of inspiration are very varied. I'm drawn to art generally, particularly old paintings; I have a weakness for those of Fragonard which fire my imagination. I'm also fond of music because it transports me to other places and opens up new worlds to me. I also really like to lose myself in the city streets and take time to observe the architecture.
My wanderings in various botanical gardens are another key source of inspiration; plants and other elements of nature often crop up in my designs.
How would you describe your universe?
My universe is an invitation to travel to exotic places. You'll find all sorts of birds, cactuses in pots, tropical plants that are sometimes unfamiliar, sign lettering and beach huts on stilts.
You use a number of different mediums. You paint murals, you do illustrations, you're a graphic designer… Is there a surface that you are particularly fond of?
My favourite surface is paper. I love being alone in my little nest with my decor, my music and a blank page, my pencils and felt-tip pens in front of me.
When a sheet of paper feels too small or when I need to let off steam, I pack my painting bag and go off to paint a wall with my friends.
Drawing has a calming effect on me whereas with graffiti I let go and give it all I've got.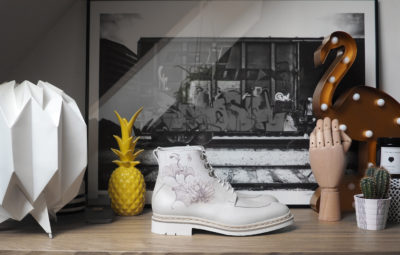 What message do you hope to convey through your work?
I really want to take people on a journey, for their senses to be awakened on seeing my designs. I would like them to smell the scent of coconut, hear birds singing, feel like they're in another world…
Can you tell us how the collaboration with Heschung for the Spring/Summer 2017 collection came about?
While I was on holiday in the south, one of your colleagues phoned me and asked me to do an illustration for a Heschung Limited Edition. Right off the bat, I was really keen to be involved in such a project.
Had you been involved in similar projects before?

I had already worked with a few brands but nothing as ambitious as my collaboration with Heschung. I am very proud to have been involved in this project because I managed to hold onto my freedom, my universe, while at the same time bowing to the constraints of the object, the shoe.
Can you tell us more about the process of creating these illustrations?
I stayed true to my own graphic universe while immersing myself in the Heschung aesthetic. The resulting illustrations are consistent with the brand's DNA. Everything else flowed from that and happened really naturally; the brief was to provide illustrations on an exotic theme and I had to draw a hummingbird… I was in my element!
What do you like about Heschung?
For me, Heschung is not just about know-how, history and traditions, it's also a brand that focuses on the essential, with style and a contemporary touch.
I really like the work done this season on masculine/feminine styling.
How would you describe the brand in three words?
Know-how, style, contemporary.
What is your favourite style?
I really like Ginkgo which, as far as I'm concerned, is the style that best symbolises the brand. I feel it represents the know-how, style and contemporary spirit that the brand embodies.